Orchard. Thinking outside the big box.
So, you're an 85-year old brand, trying to grow your business in the face of relentless competition from big boxes and Amazon. Competing on price alone just is not working. You have an oddball product mix, a small budget, and a customer that can't imagine what role you might play in their lives. What to do?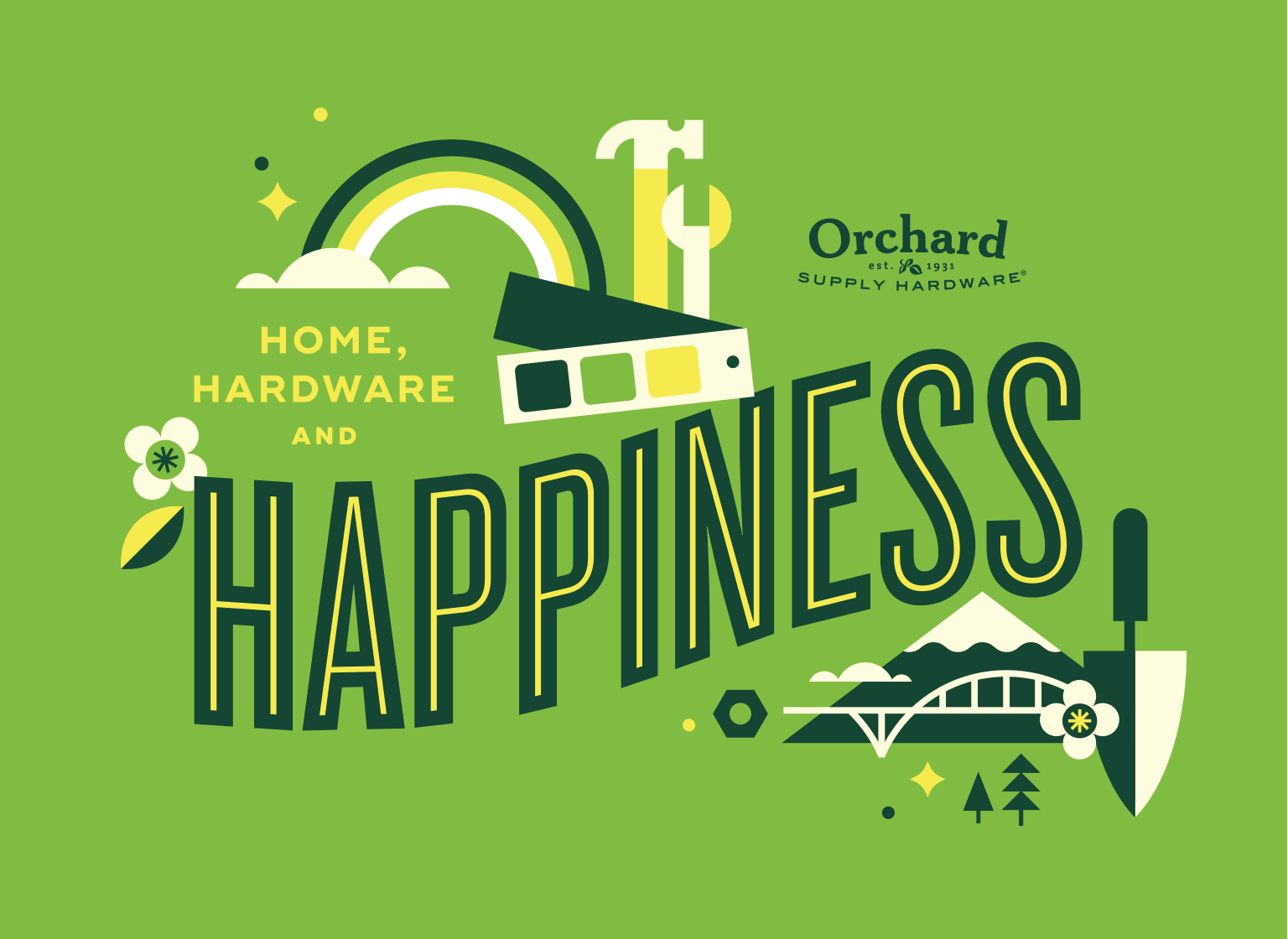 Solution
For Orchard, growth will come from embracing their difference.
Orchard has smaller stores, a focus on easily accomplished projects, and a personable tone of voice. Not home improvement, but home enjoyment.
Working with our friends at roundpeg, we created a platform that is part promise, part product description. "Home, Hardware & Happiness" is the heart and soul of the Orchard brand. It lays the basis for the entire team's work, from traditional advertising to what's printed on the receipt.
What we did:
Creative Platform | Creative Development | Connections Plan | Analytics and Reporting | Strategic and Creative Intent | Execution and Production | Co-ordination leaders across multiple roster agencies
After 10 years of talking clients out of TV in favor of more cost effective channels, we finally failed. And for good reason. A highly targeted buy combined with a perfectly tuned concept made for a compelling introduction.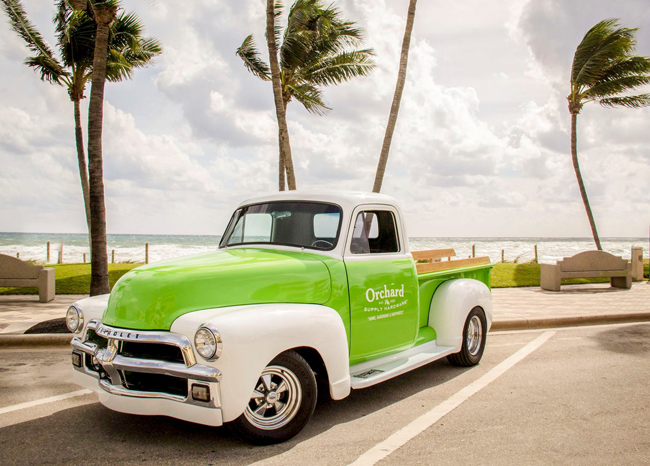 Orchard is all about serving neighbors. Persuasion created a truck to go out into the community and pitch in with things like tree delivery, park clean-ups and so on. The design recalls the brand's farmer co-op roots, updated for today.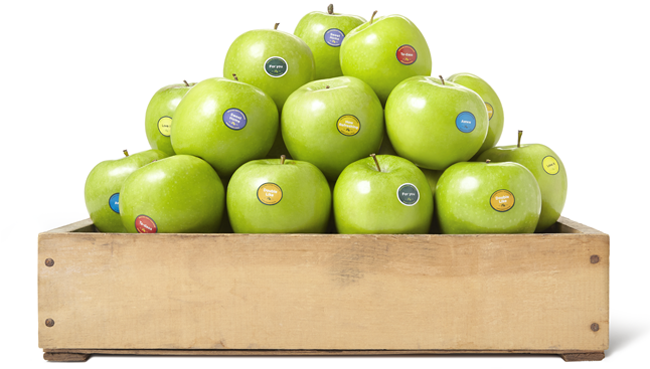 The unique customer experience at Orchard is notoriously difficult to summarize. That's a problem, considering our biggest media channel is word-of-mouth. So Persuasion created an experience that is memorable and easy to describe. On checkout, every Orchard customer is offered a fresh, crisp apple.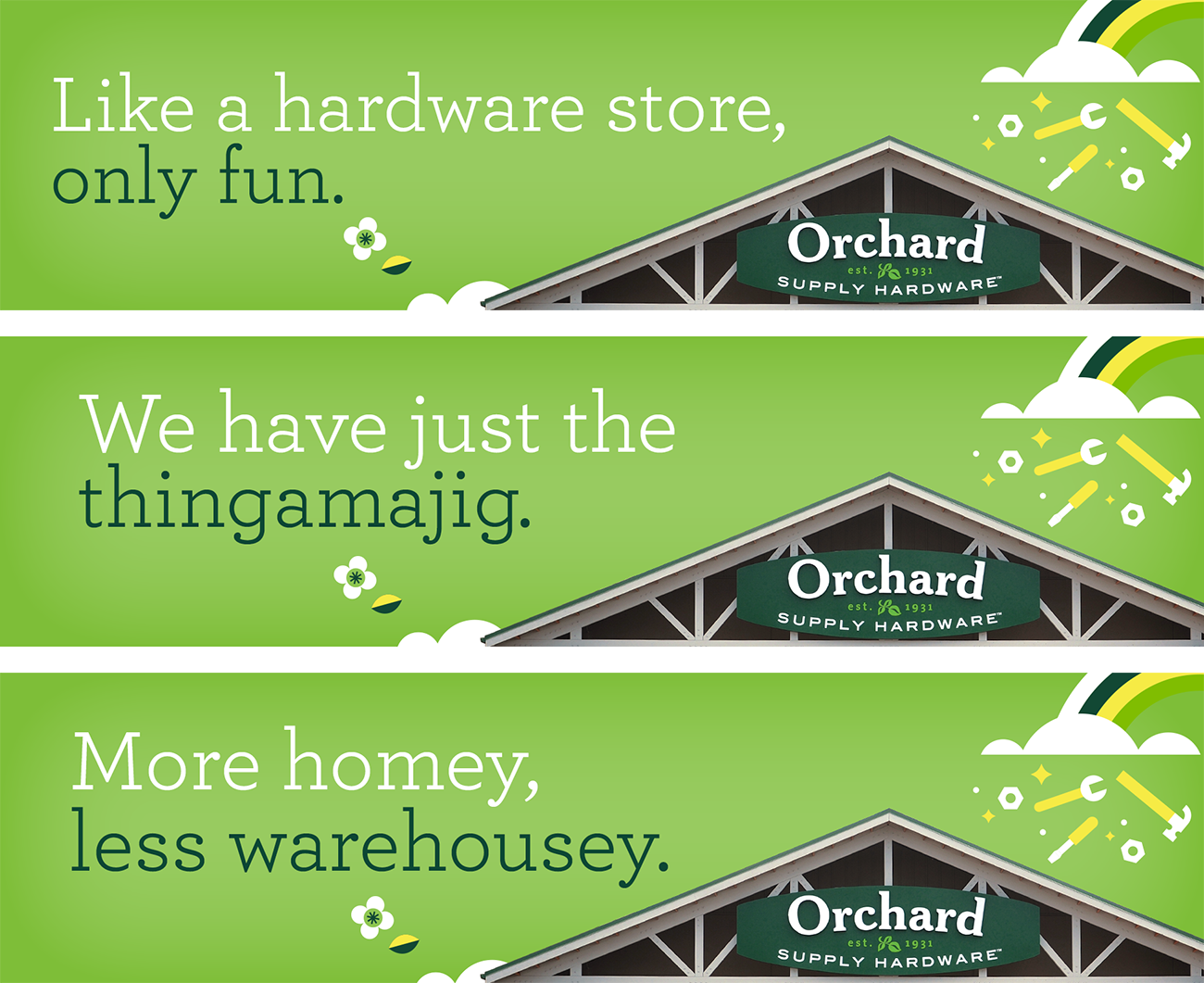 Orchard speaks clearly and distinctively wherever it is. These tightly targeted messages built a strong position quickly.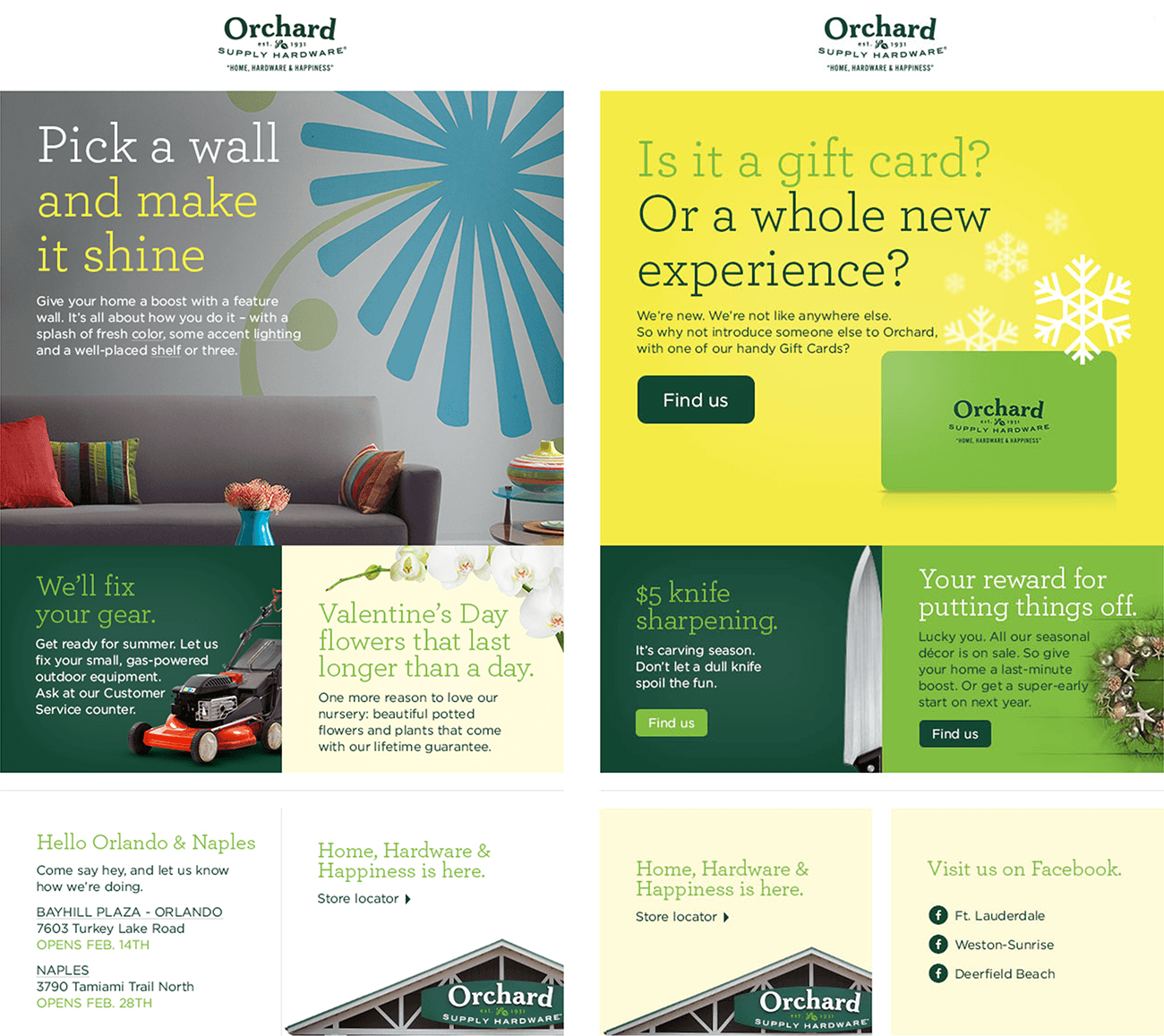 Persuasion acted as guardians of the creative and strategic intent on behalf of Orchard. This meant guiding and coordinating media planning, events, activations, public relations, in-store communications and social media. We also revamped the brand's email marketing with a new voice, design, and purpose.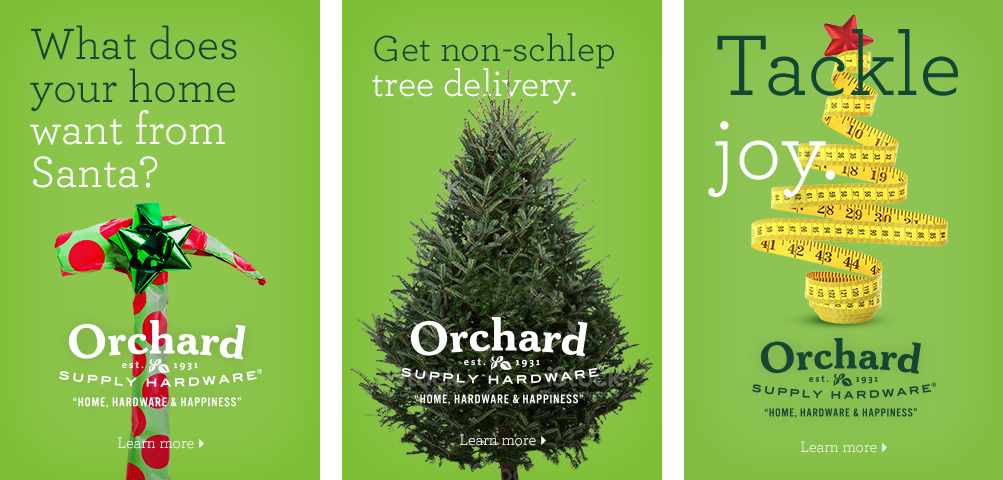 The disciplined and consistent palette created a simple and strong overall brand impression.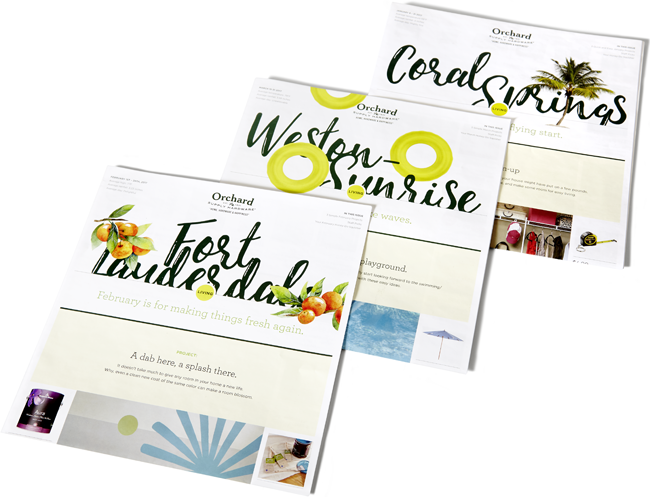 Persuasion re-designed the Orchard circulars to be less reliant on product and price, and more as neighborhood-specific guides to home enjoyment. We grouped merchandise into human-sized project themes. And we created new groupings, such as local products, staff picks, and The Honey-Do Squisher.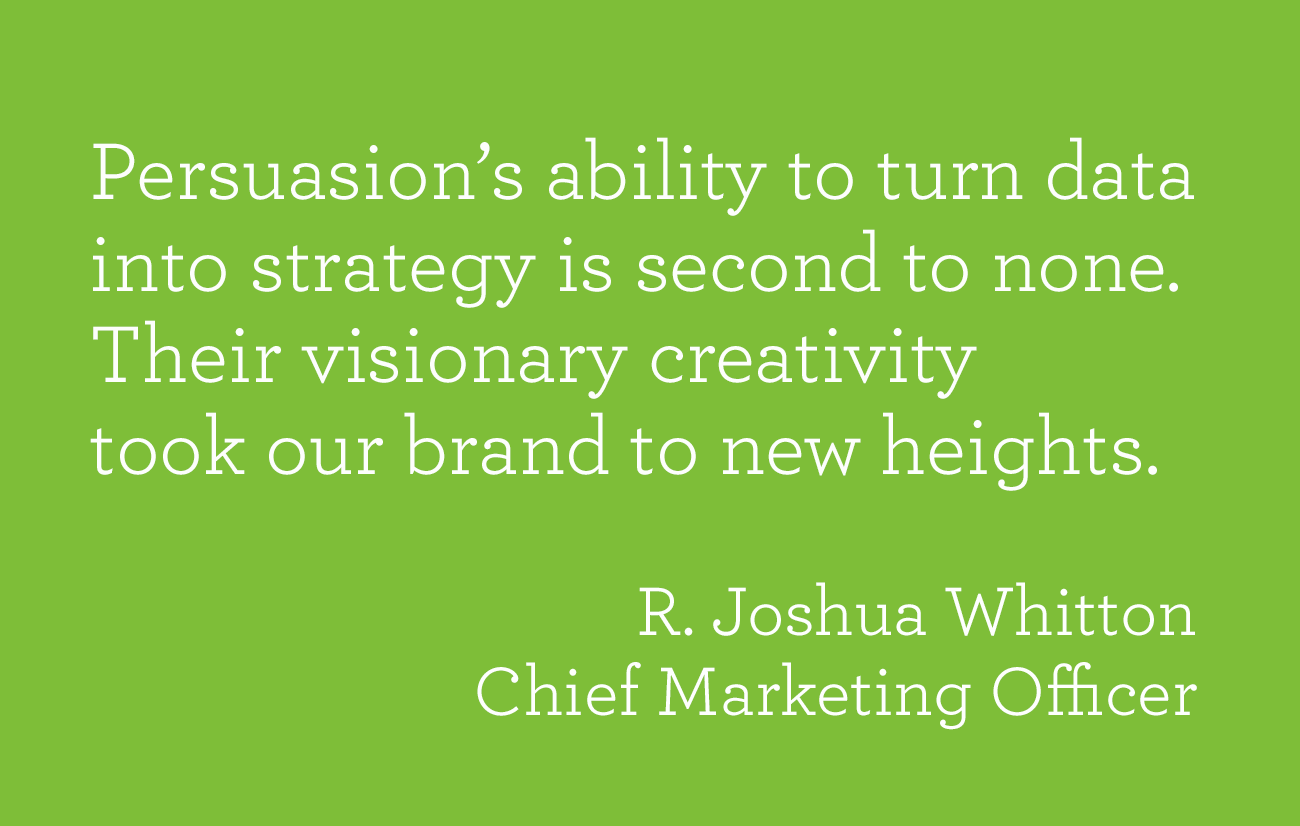 The brand overhaul began as part of the launch of five stores in Florida in early 2017.
The success of those openings has accelerated the adoption of the "Home, Hardware & Happiness" platform across the entire company.